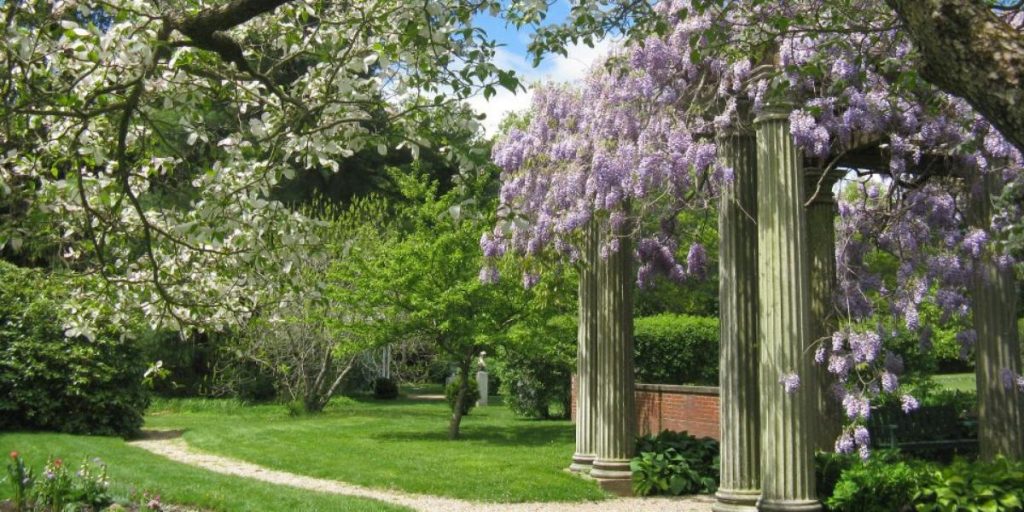 Historical Landscape:  
Glen Magna Farms can accommodate up to 200 people with tenting. In addition, Porch enclosures may be rented for the Veranda.
Rental of Glen Magna Farms includes exclusive access to the grounds, and the following rooms in the mansion:
First Floor:  The Foyer, Drawing Room, Dining Room, Veranda, Kitchen, Little Parlor and Rest Room.  
Second Floor:  Two changing rooms connected by a restroom for the bride, Grooms room, and additional restroom.  The Mansion is heated but does not have air-conditioning.  The first floor of the mansion is fully handicap accessible and meets the guidelines set forth by the American Disabilities Act (ADA).
Glen Magna Farms ca 1790. Off Ingersoll Street. This house, first occupied by Jonathan Ingersoll in the 1790s, was bought in 1814 by Cpt. Joseph Peabody for an estate to hide his cargoes from British capture. William C. Endicott, Jr., son of the Secretary of War under Cleveland, transformed the home into a stylish Georgian Revival country mansion in the 1890s.
The gardens were laid out by Frederick Law Olmsted and Joseph Chamberlain. The central 11 acres owned by the Historical Society are surrounded by the 140 acre town owned Endicott  which include farm buildings, parks, a playground and walking trails.